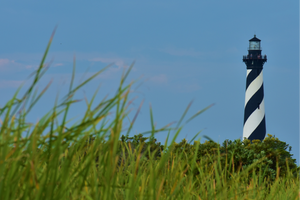 Cape Hatteras Lighthouse through the Marsh
I love living on the Outer Banks. It is so rich in history. I love finding new angles on our landmarks that have been photographed thousands of times. I scouted this angle out the whole Summer. Luckily the only thing that bit me was the mosquitos.
This 8"x10" signed print comes in a protective sleeve and backer board. I print each one in my studio on the Outer Banks to insure the highest quality from when I take the photo to when it is delivered to you.