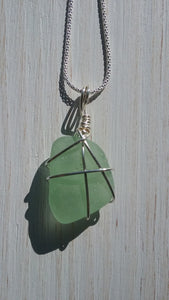 Seafoam Beachglass Necklace
This beautiful Seafoam piece is one of my favorites. It's lovely color is just like the color of the ocean. The only thing missing are the palm trees swaying in the trade winds. This piece has been conditioned beautifully over years of being in the ocean. 
The pendant is aproximately 1" x 3/4'", and hangs on an 18 inch sterling silver chain.